<![if !vml]>

<![endif]>
Newsletter – 2nd August 2022
Researchers make their own luck
Save 20% on Findmypast.com.au subscriptions
Ancestry launch Chromosome Painter
Using settlement certificates in family history research
A technologically-challenged grandmother writes….
Gene therapy that might have saved the Romanovs
Somerton Man identified after 74 years?
Review: Marriage Law for Genealogists
The LostCousins newsletter is usually published 2 or 3 times a month. To access the previous issue (dated 19th July) click here; to find earlier articles use the customised Google search between this paragraph and the next (it searches ALL of the newsletters since February 2009, so you don't need to keep copies):
To go to the main LostCousins website click the logo at the top of this newsletter. If you're not already a member, do join - it's FREE, and you'll get an email to alert you whenever there's a new edition of this newsletter available!
Researchers make their own luck
There's an old saying, often attributed to Gary Player – or fellow golfer Arnold Palmer – though neither of them was the first to use it. There are several variations, but they're all on the same theme: "The more I practice the luckier I get."
It's the same for researchers, from Archaeologists to Zoologists, and everyone in between – including family historians. This recent blog post by professional genealogist Clare Kirk is a wonderful example of what we can achieve, if we only try – it's an incredible story, and just what I'd expect from a LostCousins member!
Save 20% on Findmypast.com.au subscriptions
It's National Family History Month in Australia and New Zealand, so Findmypast are marking the occasion with a discount on all of their subscriptions – though as the discount only applies to the first payment, you'll make by far the biggest saving when you lock in the discount for a full year with a 12 month subscription.
20% discount reduces the cost of a 12 month Plus subscription to $185.59, whilst a Pro subscription – which includes newspapers and worldwide records – costs $256.79. To support LostCousins please follow the link below and if you get a message about cookies click That's fine (you can always go back and change the settings later):
Findmypast.com.au – SAVE 20% ON ALL SUBSCRIPTIONS
Note: in the USA Family History Month is October, but that doesn't necessarily mean there will be an offer from Findmypast then (not least because Black Friday will be just around the corner).
Ancestry launch Chromosome Painter
Earlier this year Ancestry announced their new SideViewTM technology, which uses sophisticated algorithms to identify which parts of a user's DNA came from each parent – you can re-read my newsletter article here, but it's also worth taking a look at Ancestry's press release, which you may not have seen at the time.
For me, the key sentence in that press release was this one: "SideView™ technology groups matches with a precision rate of 95% for 90% of AncestryDNA customers thanks to the size and statistical power of the AncestryDNA match network"
Those 95% and 90% figures look impressive, but when you start looking at individual chromosomes a 5% error rate could mean that one or two chromosomes have been allocated to the wrong parent – and whilst this may not be obvious in cases where both parents have similar ancestry, in other circumstances it could cause confusion. There's also the possibility that you're in the 10% minority for whom the error rate is higher.
Ancestry have now followed up with the release of their Chromosome Painter which, in effect, shows the workings behind your ethnicity estimate. You can read about this new feature on Ancestry's Support page – though the example shown there, and reproduced below, looks nothing like my results, which are far less interesting!
<![if !vml]>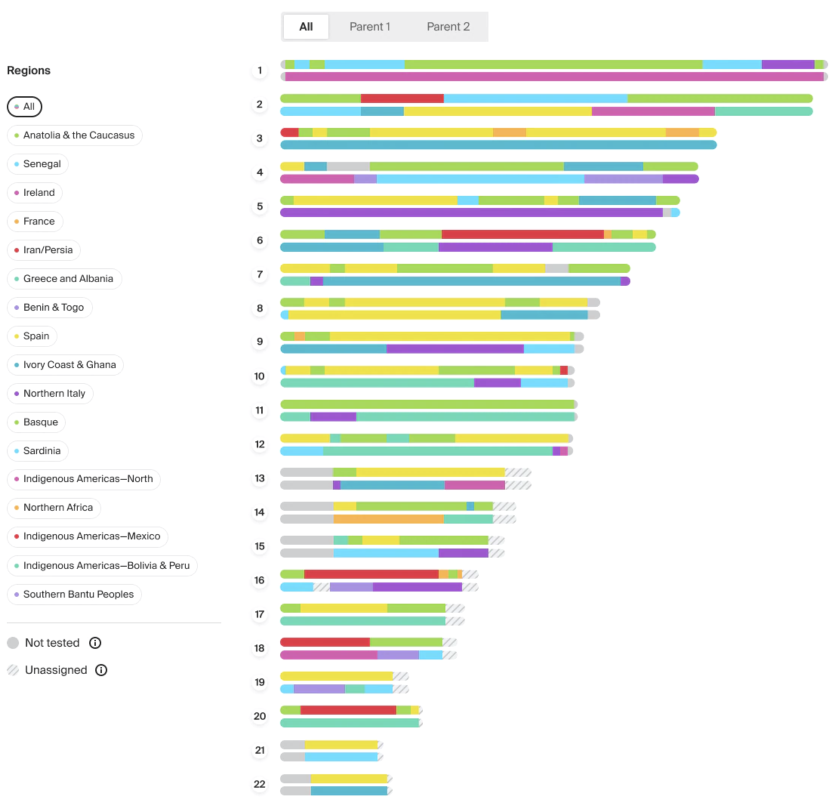 <![endif]>
Remember that Ancestry don't tell you which of your parents is Parent 1, and which Parent 2 – that's something you need to figure out based on your knowledge of their ancestry.
If you are fortunate enough to have been able to test one or both parents (as well as yourself), I'd be interested to know what you make of the Chromosome Painter, which you can access by going to the Ethnicity Inheritance block in your DNA Story, then clicking View breakdown. But don't write to me, please instead post your comments on the LostCousins Forum in this discussion. If you have access to multiple test results note that you can only see this information for your own test, and any other tests where you have been appointed Manager.
Tip: you don't need to be a member of the forum to see most of the information posted there, but you do need to be a member if you want to post a contribution of your own. Most of the people who read this newsletter have already been invited to join the forum, or could easily qualify by adding a few more relatives to their My Ancestors page (something that they probably ought to do anyway!). See your My Summary page to find out whether you've already qualified, or how far you've got to go – you need a Match Potential of 1 or more, and you can make up the shortfall most quickly by entering relatives from the 1881 censuses.  
In the latest issue of The Journal of Legal History Professor Rebecca Probert writes about 'civil marriage' in the context of the 1836 Marriage Act – you can download the PDF here (it's one of several articles in the issue which are open access). If you haven't yet read Professor Probert's latest book (see review below) it'll underline just how complex marriage law and marriage practice can be!
Note: on the Subscribers Only page at the LostCousins site you'll find a link to a talk that Professor Probert gave to LostCousins members earlier this year.
Using settlement certificates in family history research
I'm delighted to be able to publish this article, by an expert in the field, on a valuable resource that is all too often forgotten about….
Most family historians are familiar with using census material, and many will have visited a record office to look through parish registers of births, marriages and deaths. A relative few however will have attempted to look at settlement certificates. This is not really surprising, since they were not required of all the population in the same way as registrations, their survival rate is very patchy, and most are not available online at sites such as Ancestry or Findmypast.
Nonetheless, such certificates can be very informative if you are able to track one down from your family's past. As with all sources though, care should be taken in understanding what they are really telling you.
What were settlement certificates?
Settlement certificates became mandatory after 1697, when the Act for the Better Relief of the Poor laid down that a person moving from one parish to another, if they were to be renting a property worth less than £10 a year, had to have a certificate from their parish of origin saying that they would pay for any relief the person may need if they fell on hard times.
Note: Many sources cite the 1662 Settlement Act as the introduction of settlement certificates – this is erroneous. A form of settlement certificate grew up after 1662, but these were technically bonds between one parish and another, underwritten by local worthies normally to an amount of about £40.
Without such a certificate a person could be moved on at the behest of the overseers and magistrates of the destination parish. With it the person was safe unless they claimed for relief.
At the time of the passage of the Act, and for most of the following century, this covered the majority of the population. You had to be quite comfortably wealthy in order to avoid needing a certificate. Their use continued until they were officially abolished in the 1865 Union Chargeability Act, which made Unions, not parishes, responsible for raising rates. In practice their use had started to fade long before this, and not many collections go on much after 1834. Consequently their use covers about 150 years, and the record offices of the country contain tens of thousands of them.
The problem is searching them. A lot of record offices have calendared their settlement and removal certificates, and they are available on CD ROMs, which themselves are indexed by name. Some record offices even have a name search available on their catalogue, which will bring up the appropriate certificate. If you have a family name associated with a particular county in the eighteenth century, and can with reasonable certainty associate them with a parish or borough (through registry material) you may well be in luck.
Supposing you do manage to track down such a certificate from your family's tree. What can it tell you?
Most settlement certificates look like this:
<![if !vml]>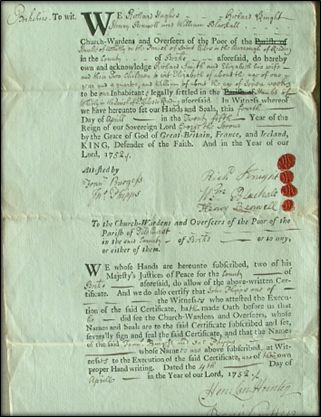 <![endif]>
Figure 1: Berkshire Record Office D/P 96/13 (used by kind permission of Berkshire Record Office); this and many other interesting documents can be found on the CD ROM Berkshire Overseers' Papers compiled by Berkshire Family History Society and Berkshire Record Society, and available from the Berkshire FHS shop.
<![if !supportLineBreakNewLine]>
<![endif]>
It gives you the name of the settler, normally a man, and usually the name of his wife, and the names and ages of his children. It will be written by the overseers of the poor in one parish to the overseers of the poor in another parish. There will be a date, and sometimes a profession for the settler. There is also a provision for a signature, but more often, especially early in the eighteenth century, this is only a mark. They are proof of movement of this family from one place to another.
One significant misreading of settlement certificates is that they give the date of a person's migration from one parish to another. This is rarely the case.
What the date on a settlement certificate actually does signify is still a matter for debate, but most are in agreement that settlers did not habitually get a certificate from their parish of origin as they left. Sometimes they did, and this is often shown by an address to the destination parish such as "to whom it may concern" or "the overseers of the parish of St. Mary's or St. Andrews in Anytown". Most accept that certificates were sent for once a person had settled in a parish; often if they got married in the destination parish. This was because a parish might accept a single man looking for work without question, but once he was likely to produce hungry offspring they wanted the insurance of a host parish.  If you are lucky you may well find a settlement certificate around the date of your ancestor's marriage. Sometimes the certificates could be in response to the family falling on hard times, often after the birth of yet another baby, a lot of certificates have very new born babies on them. If they presented to the parish looking for relief the likelihood is that the parish would examine them to establish where they were settled, and then send to the overseers of that parish for a certificate, and an agreement to pay up. If they didn't they could be removed.
In some parishes, like the ones I have studied in Reading, a bunch of certificates were issued all in one go, around the same time that the poor rates start going up. This is good housekeeping on the part of the parish in difficult times. They are making sure they know who is going to pay for their settlers in the event of the need for relief. It does not mean that the settlers have applied for relief.
If you do find a settlement certificate, then you could well be on threshold of a treasury of information about your family. It is worth searching then under "examinations" to find out if there is an examination associated with the certificate. This could be in the parish of origin, but is most likely in the host parish, and would have been carried out by the JPs. This will give a huge amount of information, where the man has worked all his life, what he has been paid, properties rented, all his marriages and relationships, apprenticeships, parish positions, where he has paid rates, times in prison, in the armed forces and any amount more. It may also be worth looking at "removals", to see if the unfortunate family were sent back to where they came from. The last source associated with this is a possible appeal at the Quarter Sessions. If you find a removal, then the chances are that the origin parish appealed, which means there will be a case in the County Quarter Session minutes from around the time of the removal.
Settlement certificates are a real jewel if you can associate one with your family. Good luck!
About the author: Margaret Ounsley has an MSc from the University of Oxford in English Local History and is currently studying for a PhD in Poor Law History at the University of Reading. She has written several local history books on Coley, her local area in Reading, including Coley Talking: Realities of life in old Reading, published last year.
A technologically-challenged grandmother writes….
Some time ago Peter published a newsletter article which suggested that for some people, using DNA seemed like cheating, a way to get around doing good old-fashioned research. Well, it certainly isn't cheating, it's simply a method of confirming unproven ancestry, or opening up hitherto unavailable avenues for further research.
Take, for example, my family tree with the delightfully common surname of WILLIAMS in Devon/Cornwall. Not as difficult as in Wales perhaps, but there are still thousands of them. Even with access to all the appropriate local parish records, it is still a nightmare trying to determine which John Williams or William Williams is the correct ancestor, when several possibilities present themselves in a given location.
Post-1837, marriage entries list fathers' names and occupations, which narrows down the choice considerably, and successive census records can assist in tracking the family through the decades. Wills listing descendants are another great help, where they exist, as are the GRO birth indexes which give mothers' maiden names, but when all the obvious avenues have been investigated and 3 or 4 possible candidates still exist, where do you turn?
For me there was only one answer, DNA – it's a way of engaging the help of cousins without necessarily contacting them. All it takes is for some of your DNA matches to have a tree, and sometimes even a very small tree is sufficient.
As an example, I had a DNA match which was shared with my sister, a 1st cousin and two 2nd cousins on my maternal grandmother's side. My genetic cousin had kindly provided basic information of his parents, who married in Devon in 1938, but not much else. Nevertheless, using a combination of GRO indexes and information found at Ancestry, FamilySearch, and Findmypast I was able to draw up a reliable tree back to my match's great-great  grandparents. The maternal line offered no obvious links, but the paternal line soon threw up the WILLIAMS surname in the area of Devon where my own WILLIAMS ancestors lived.
Through a process of elimination I arrived at my cousin's 3G grandfather John Williams, a man who was already on my radar as one of three possible candidates for my own 3G grandfather (though up to this point I had believed one of the other John Williams to be a more plausible choice). Finding a DNA match who was a descendant of this different John Williams prompted me to research his other descendants and, as I did, numerous surnames I recognised as DNA matches in the 4th-6th cousin range began popping up, providing further evidence to support the case for this man to be my great-great-great grandfather.
All in all, it was a very worthwhile, if time-consuming, exercise – but knocking down a longstanding 'brick wall' is rarely easy. DNA had not only pointed me in the direction of the correct John Williams, but also encouraged me to research his descendants – I eventually found a dozen of his descendants who were DNA matches.
There is a certain thrill when tracing the tree of a DNA match, and a name which already exists in your own tree appears. It not only confirms that your own research is in all probability correct, but may provide the information needed to extend your own tree back another generation. Approaching a 'brick wall' from a different angle is a great way to knock it down!
I am most definitely a DNA convert, though I admit to having no success whatsoever with FTDNA, the first company I tested with. All my breakthroughs have been via Ancestry, so I can understand why Peter recommends their test.
Many thanks to Chris for taking the time to tell us about her experiences.
This BBC News article about three women of the Women's Auxiliary Air Force who won the Military Medal for their bravery during the Battle of Britain was, fittingly, published just hours before the lionesses of the England women's soccer team defeated Germany in a hard fought battle which – rather like WW2 – went to extra time.
The daughter of one of those three brave women told the BBC how her mother was embarrassed by the award, and rarely mentioned it – and some people thought that only men should be awarded the Military Medal. Yet she had signed up for duty in December 1939, long before most men volunteered (or were conscripted).
On Thursday last week a new exhibition opened at Biggin Hill Memorial Museum  - you can find out more here.
Gene therapy that might have saved the Romanovs
Haemophilia B, the disease inadvertently passed by Queen Victoria to the Royal Houses of Europe has been cured by gene therapy, according to this BBC News article – which reports findings published in the New England Journal of Medicine. This page on the website of the National Hemophilia Organisation in the US has an interview with British historian Helen Rappaport in which she explains the impact that haemophilia had on the Russian Royal Family.
I was particularly interested to read that the Tsesarevich was prescribed aspirin by his doctors – though it may have temporarily quelled the pain it would have made the bleeding worse (my mother made the same mistake in 1973 when I was suffering from gastroenteritis). Rasputin may not have been a monk, and may or may not have been mad, but his involvement did at least stop the doctors giving young Alexei Nikolaevich a drug that would make his condition worse.
Note: there's another gene therapy on the horizon – scientists hope to be able to cure an inherited heart condition that can lead to sudden death in young people. You can read more here.
Somerton Man identified after 74 years?
I've written in the past about the riddle of the man found dead in 1948 on an Adelaide beach – and now the university professor who has been working on the case for decades has come up with a name, based on DNA taken from the victim's hair. You can read all about the latest developments in this CNN article, but I have a feeling that this story is far from over….
<![if !vml]>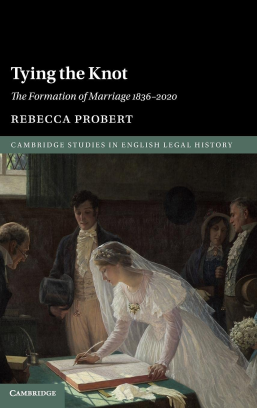 <![endif]>Tying the Knot: The Formation of Marriage 1836-2020 is the latest book from Professor Rebecca Probert, whose first book (see next review) has become a must-have for serious genealogists with ancestors from England or Wales. It focuses on the circumstances that led up to the passing of the Marriage Act 1836, the problems that the legislation solved, and the problems that it created – some of which affect us even today.
An academic book in the Cambridge Studies in English Legal History series, it has a price to match – and sadly this may prevent many readers of this newsletter from purchasing it. However if you want to better understand why your ancestors married how they did and where they did, I would encourage you to order the book from your local public library, because it turns out that a lot of the assumptions that family historians typically make about marriage in the 19th century are false, or only applied for part of the period. For example, at one point it was possible to have a religious ceremony in a register office!
Described by Chris Barton, Emeritus Professor of Family Law at Staffordshire University as "the stand-out family lawyer of her generation", Professor Probert was an advisor to the Law Commission, whose recommendations for changes to marriage law I mentioned in the last issue. She's also no stranger to LostCousins members – indeed, it was in this newsletter that she first invited family historians to submit examples from their own researches, and amongst the long list of contributors in the preface there are numerous names that I recognise.
This book isn't light reading – the copious footnotes are testament to that – but there are so many surprises en route that there won't be any chance of nodding off (as I so often did when studying at university half a century ago). Buy it if you can, borrow it if you can't!
Amazon.co.uk                            Amazon.com                                         Amazon.ca                                  Amazon.com.au
Review: Marriage Law for Genealogists
When I first reviewed Marriage Law for Genealogists in 2012 I described it as "a phenomenal new book from Professor Rebecca Probert of Warwick University, which proves that many of the assumptions and assertions that have been made about marriage and related topics such as illegitimacy are plain wrong!" (I went on to comment that even Ancestral Trails, the book that taught me much of what I know about genealogy, and which was written by a lawyer, isn't completely absolved of blame.)
Professor Probert's book really was an eye-opener for me, as it must have been for everyone who took my advice and bought it. For example, if you've ever wondered about the status of clandestine marriages, then all will be revealed in the book - it really is a goldmine of fascinating information! And whilst we all know that divorce was rare until the 20th century, to discover that there were only about 300 divorces up to 1857 (the first being in the 1660s) really puts it into perspective.
Even before reading the book I already knew that when my great-grandfather married his sister-in-law in 1897 (after my great-grandmother died at the age of 36), he was breaking the law – but it would be surprising if you don't have at least one similar marriage in your tree. Indeed I found two more after reading the book – so there are at least three in my tree, and that's just on my mother's side! Key to <![if !vml]>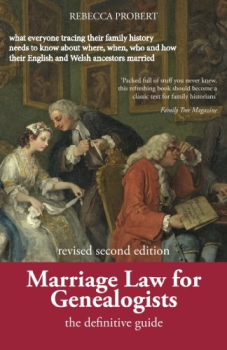 <![endif]>understanding how marriage law worked in practice is the difference between 'void' and 'voidable' – and knowing which defects really mattered. For example, if only one witness signed the register was the marriage void, voidable, or valid? After reading the book you'll know the answers – but would your ancestors have known at the time?
Despite the title, Marriage Law for Genealogists is not just about the letter of the law – Professor Probert carried out research to establish how people behaved in practice. For example, if the bride and groom gave the same address when they married did it mean they were co-habiting prior to their marriage – or are there other possible explanations? Again, you might be surprised by the answer.  
This is a book that every family historian who takes their research seriously should keep on their bookshelves - so it's hardly any wonder that 10 years after its original publication (a slightly revised edition was published in 2016) there are no second-hand copies selling at bargain prices. Indeed, it's almost as cheap to buy a new copy as a used one!  This is a book you'll read and re-read.
At £10, less than the price of a marriage certificate, it really is a must-have purchase for anyone whose ancestors married in England or Wales – indeed, the only book that comes anywhere near it is Professor Probert's follow-up, Divorced, Bigamist, Bereaved which looks at how our ancestors' marriages ended.
As usual, you can support LostCousins when you use the links below - even if you end up buying something completely different.
Amazon.co.uk                             Amazon.com                                         Amazon.ca                                  Amazon.com.au
As many of you will know, since the pandemic began I've foregone the pleasure of shopping in favour of home deliveries (and the occasional click-and-collect, which at our nearest Tesco supermarket takes place outdoors). But I still take pleasure in checking the bills – it must be the accountant in me!
A few months ago Tesco discontinued paper delivery notes in favour of emailed receipts which, in theory, show each item in the order and the price paid (though just to confuse things some savings are deducted above the line and some below the line). However, when I order two of an item which is sold by weight (for example, my most recent order included two packs of kippers priced at £1.12 and £1.38) only one of them shows on the receipt, though both are included in the total at the bottom of the bill.
When I pointed this out to a very helpful gentleman in Customer Services I was surprised to learn that it hadn't been reported by anyone else – I can only guess that other customers are more likely to be bean eaters than bean counters. Or perhaps they're just more trusting than I am….
I don't mind occasionally going to collect my order, but I didn't appreciate what happened 5 weeks ago when a delivery I was expecting failed to show up. Having waited for more than half an hour beyond the arranged delivery slot I phoned Customer Services, who were at first as stumped as I was. Eventually they managed to get through to someone at the store (which by this time was closed), only to discover that I should have been notified that, due to a driver shortage, my delivery had been switched to click-and-collect. Thankfully there was a member of staff who could hand over the order, even though it was outside normal hours, and on returning home I was mollified by the arrival of two separate emails with £10 goodwill voucher codes.
All's Well That Ends Well – to quote Shakespeare – except that it turned into The Comedy of Errors, because when I subsequently tried to use the 'goodwill' vouchers towards future orders they weren't accepted. It transpired that this problem was something that my saviour in customer services was aware of, and he told me that the technical team were working on it – though he suggested that I might prefer to have a refund, as he didn't know how long it would take, and wasn't sure that that the vouchers I had been issued with would ever work. I gratefully accepted this suggestion!
But these are all First World problems – and the almost total loss of our water supply yesterday, resulting from a burst water main, made me realise how fortunate we are to have fresh water on tap, something that most of our ancestors could only have dreamt of.
Coincidentally we had a plumber in yesterday afternoon to change some taps, service our boiler, and carry out a few other repairs that had been patiently awaiting his arrival – the lack of water did at least mean that he didn't have to keep switching it off at the mains! I gave him one of our masks to wear since he only had one of those blue things that they hand out to people who turn up at the doctor's surgery without a face covering – I explained that several of our friends and relatives had caught COVID for the first time during July, and we were determined not to join them. It's not so much the risk of dying from the disease, which is lower with the Omicron variants, but the chance of developing long COVID (which can affect anyone, even youngsters). I experienced something similar after catching dengue fever in 2013: it was followed by two years of feeling tired, and there are some (thankfully minor) symptoms that have never gone away – so you can understand why I wouldn't want to go through the same thing again.
The masks my wife and I wear are available from Amazon in the UK (follow this link to see the full range); you can also buy them direct from the manufacturer. Lateral flow kits are another key part of the jigsaw, and we've managed to find a reasonably-priced source of the same kits that we used to get free from the NHS, so we can be confident that they've got all the right approvals – you'll find them here.
Infections are at last starting to fall in Britain, though with 1 in 20 of the population infected it's not a good time to cast caution to the winds. On the other hand, winds are just what we need to disperse virus particles in the air – which is why it is so much safer meeting people outdoors!
This is where any major updates and corrections will be highlighted - if you think you've spotted an error first reload the newsletter (press Ctrl-F5) then check again before writing to me, in case someone else has beaten you to it......
<![if !vml]>

<![endif]>
Peter Calver
Founder, LostCousins
© Copyright 2022 Peter Calver
Please do NOT copy or republish any part of this newsletter without permission - which is only granted in the most exceptional circumstances. However, you MAY link to this newsletter or any article in it without asking for permission - though why not invite other family historians to join LostCousins instead, since standard membership (which includes the newsletter), is FREE?
Many of the links in this newsletter and elsewhere on the website are affiliate links – if you make a purchase after clicking a link you may be supporting LostCousins (though this depends on your choice of browser, the settings in your browser, and any browser extensions that are installed). Thanks for your support!