<![if !vml]>

<![endif]>
Newsletter – 27th September 2023
Last chance to save £30 at Findmypast ENDS THURSDAY
Cheapest access to the 1921 Census
Does your partner have ancestors?
A real life mystery story: update
Connecting a tree to your DNA results
Lord Lucan found – in GRO index
The LostCousins newsletter is usually published 2 or 3 times a month. To access the previous issue (dated 14th September) click here; to find earlier articles use the customised Google search between this paragraph and the next (it searches ALL of the newsletters since February 2009, so you don't need to keep copies):
To go to the main LostCousins website click the logo at the top of this newsletter. If you're not already a member, do join - it's FREE, and you'll get an email to alert you whenever there's a new edition of this newsletter available!
Last chance to save £30 at Findmypast ENDS THURSDAY
Until Thursday 28th September you can save £30 on a Premium subscription to Findmypast.co.uk (and similar amounts on the top subscriptions at their other sites). Please see this article from the last issue for more details, and to learn how you might be able to get yourself a free LostCousins subscription!
Cheapest access to the 1921 Census
The new 3 month Premium subscription offers the cheapest way to gain unlimited access to the 1921 Census of England & Wales. Until recently the only option was to purchase a 12 month subscription – which, when money is tight, is challenging. The fact that Findmypast subscription prices have not kept up with inflation since 2010 is little consolation if you're having trouble paying your grocery bill.
You can support LostCousins at no additional cost to yourself by using the relevant link below:
Thanks!
Does your partner have ancestors?
Of course they do! But there are relatively very few couples who are equally enthusiastic about researching their family tree – generally one does most or all of the research for both sides, and the other partner takes a polite interest in the results. But if you're researching your other half's ancestry you should open a LostCousins account for them, even if they don't use a computer, so that you can connect and collaborate with the experienced family historians who are their 'lost cousins'.
Tip: if you open a LostCousins account for a relative (with their permission, of course) you can use your own email address – there can be two LostCousins accounts at the same email address provided the passwords are different. But don't use the same name for both accounts, otherwise everyone will get confused.
In the past week I've been helping a LostCousins member with a DNA query: this required me to have access to her Ancestry tree – which is private. It was only by chance that I noticed that the tree included her husband's ancestors as well as her own – and spotted a surname that was familiar. It was no wonder some of the names struck a chord – they appear in my tree as well, and two minutes later I had established that we are 5th cousins!
Whilst it's wonderful to make serendipitous discoveries like this, it's sad to think that the connection might never have been made. If you're researching your other half's tree, whether for their benefit, to satisfy your curiosity, or so that you have a complete family tree to pass on to the next generation, do take advantage of LostCousins – it needn't cost a penny, and even if you do decide to support my work by becoming a subscriber a joint subscription costs only £2.50 extra, less than a shilling a week.
Note: please DON'T include your other half's relatives on your own account – it will cause all sorts of confusion, and limit the chance of connecting with 'lost cousins'.
Connecting a tree to your DNA results
One of the questions I'm frequently asked is "What sort of tree, if any, should I connect to my Ancestry DNA test?". Connecting any tree is better than nothing, but here are some suggestions:
DON'T connect a tree which includes someone else's ancestors, even those of your spouse: this be confusing for your DNA matches, especially if both you and your other half have tested. But it can also be confusing for YOU because, when you look at the tree of a match, Ancestry highlights in green surnames which also appear in your tree – even though they might not be your ancestors.
If you're concerned about PRIVACY - and these days everyone should be – connecting a public Direct Ancestors-only tree to your DNA test is a good compromise, because it tells your DNA matches what they need to know, without compromising the privacy of members of your extended family. Information relating to living people is always hidden.
DON'T include information which is speculative - if you don't know who your ancestor's parents were don't put in a guess as it may prevent Ancestry's ThruLines

feature from making suggestions based on the trees of other Ancestry users. They may not be correct, but it's handy to know what other people think, and to examine the evidence on which their conclusions are based.
If you don't connect any tree to your DNA test your genetic cousins are likely to assume that you are a beginner, or have no real interest in your ancestors – either way they're unlikely to contact you, and if you contact them they might not take your enquiry seriously.
Tip: most family tree programs allow you to choose which relatives you include when you export your tree in GEDCOM format, and many will also allow you to choose what information is included for each relative.
A real life mystery story: update
In the last issue I recounted the amazing story of George Carr, who used the identity of his cousin William Michael Carr when he married in 1920, and continued to use his name for decades afterwards. If you haven't already read that article I'd strongly recommend that you do so before reading this one, as it's only when you read it in chronological order that everything falls into place.
You will recall that I eventually obtained a copy of the 1920 marriage register entry, which had been amended in 1946 when George – or was it William – swore a Statutory Declaration setting out the true facts. I can now show you a copy of that Statutory Declaration, together with correspondence from the General Register Office which explains to the vicar in detail how to amend the register should he be minded to do so. Cases like this are so rare that to be able to see the documentation was a real treat for me, and I'm grateful to Essex Record Office for allowing me to share it with you.
1945 must have been a year of celebrations for the Carr family, what with VE Day on 8th May, their Silver Wedding on 8th July, and VJ Day – the end of World War 2 – on 15th August. Perhaps it was the ending of the war that prompted Danny Eldred to propose to Gwen, their only child. And maybe that was the trigger for William/George and Emma to come clean, especially since his name would be recorded in the marriage register.
The Statutory Declaration was sworn on 16th May 1946, but no doubt there was considerable correspondence between William/George Carr and the General Register Office in the weeks and months before Mr Carr swore his oath in front of a Justice of the Peace. We'll take a look at the Statutory Declaration in a moment, but first I'd like to show you the letter from the General Register Office to the incumbent at St Paul's, Goodmayes (in Essex).
Notice where the General Register Office was based in 1946 – not so very far from where it is now…..
<![if !vml]>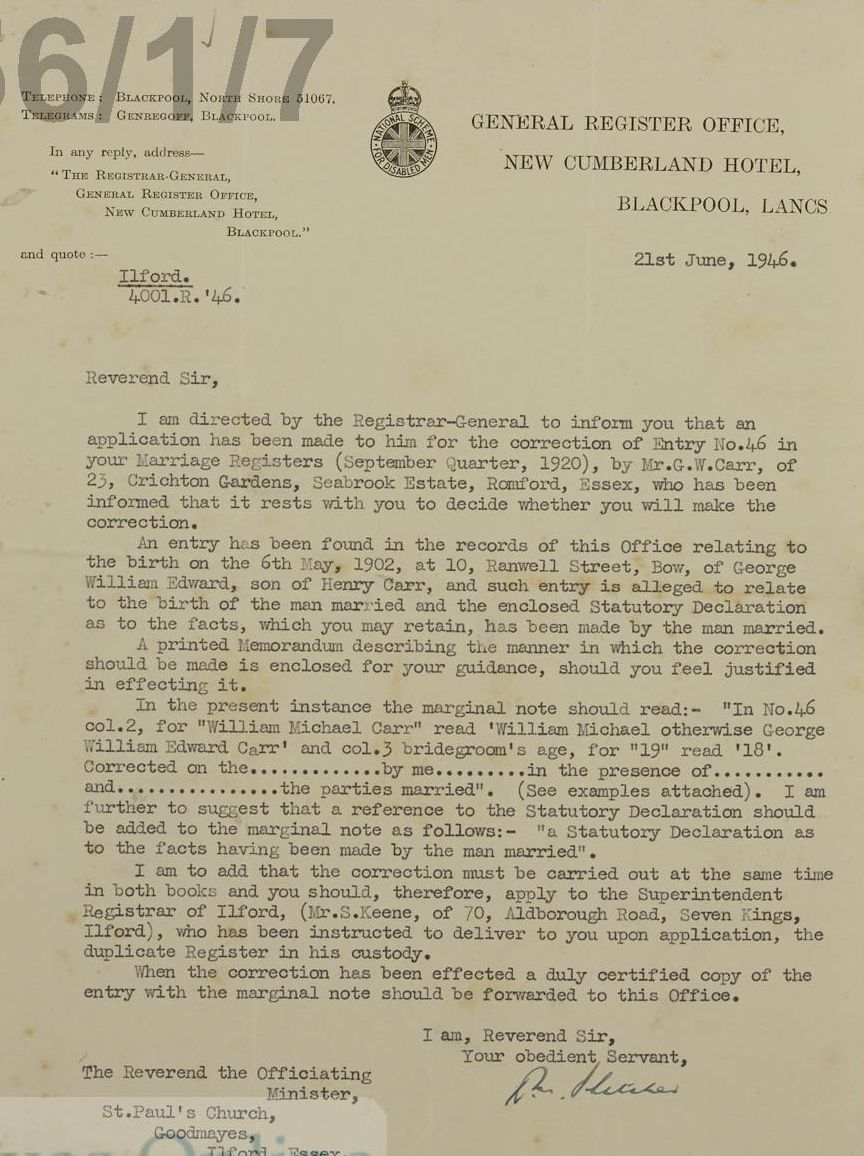 <![endif]> 
© Crown Copyright. Reproduced by courtesy of the Essex Record Office (ref D/P 656/1/7)
Note the necessity of annotating both copies of the register at the same time, ie the church copy and the duplicate marriage register held by the Superintendent Registrar of Ilford – although at the time of marriage in 1920 the church was in Romford registration district.
<![if !vml]>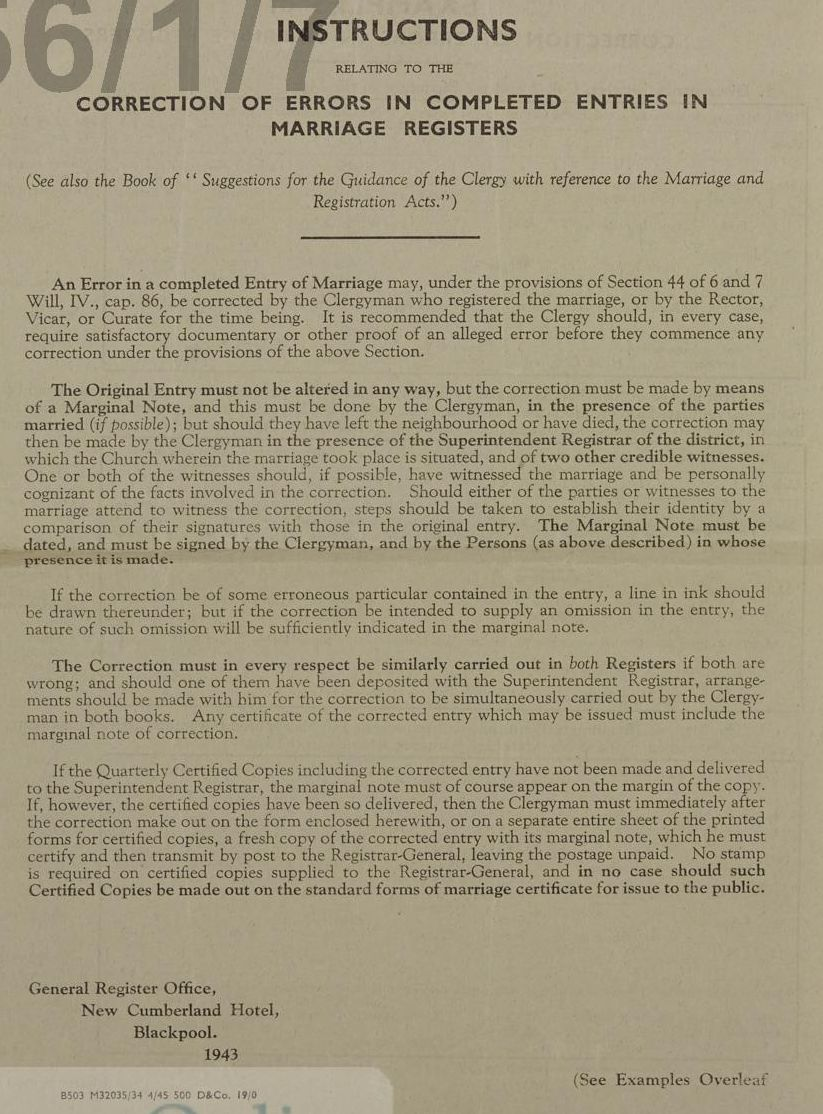 <![endif]>  
© Crown Copyright. Reproduced by courtesy of the Essex Record Office (ref D/P 656/1/7)
<![if !vml]>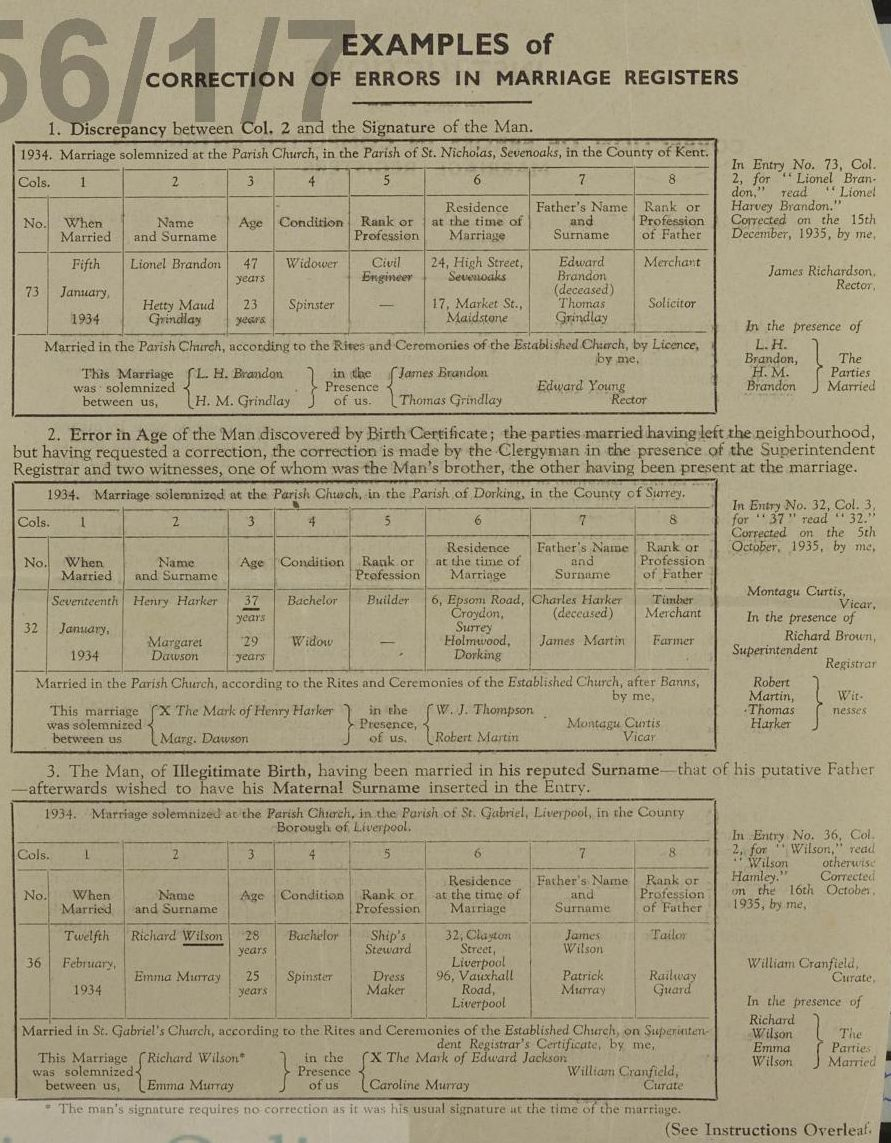 <![endif]>
© Crown Copyright. Reproduced by courtesy of the Essex Record Office (ref D/P 656/1/7)
If you look back at the church register entry you'll see that the vicar hasn't underlined any of the original information, though as I read the guidance he should have underlined both William Michael and 19 – it's surely not so very different from Examples 2 and 3 above? But considering that the changes would have been made in the presence of the Superintendent Registrar, surely he is to blame, rather than the vicar?
Let's see what we can learn from the Statutory Declaration: remember the annotation in the register didn't explain why George had married using his cousin's name.
<![if !vml]>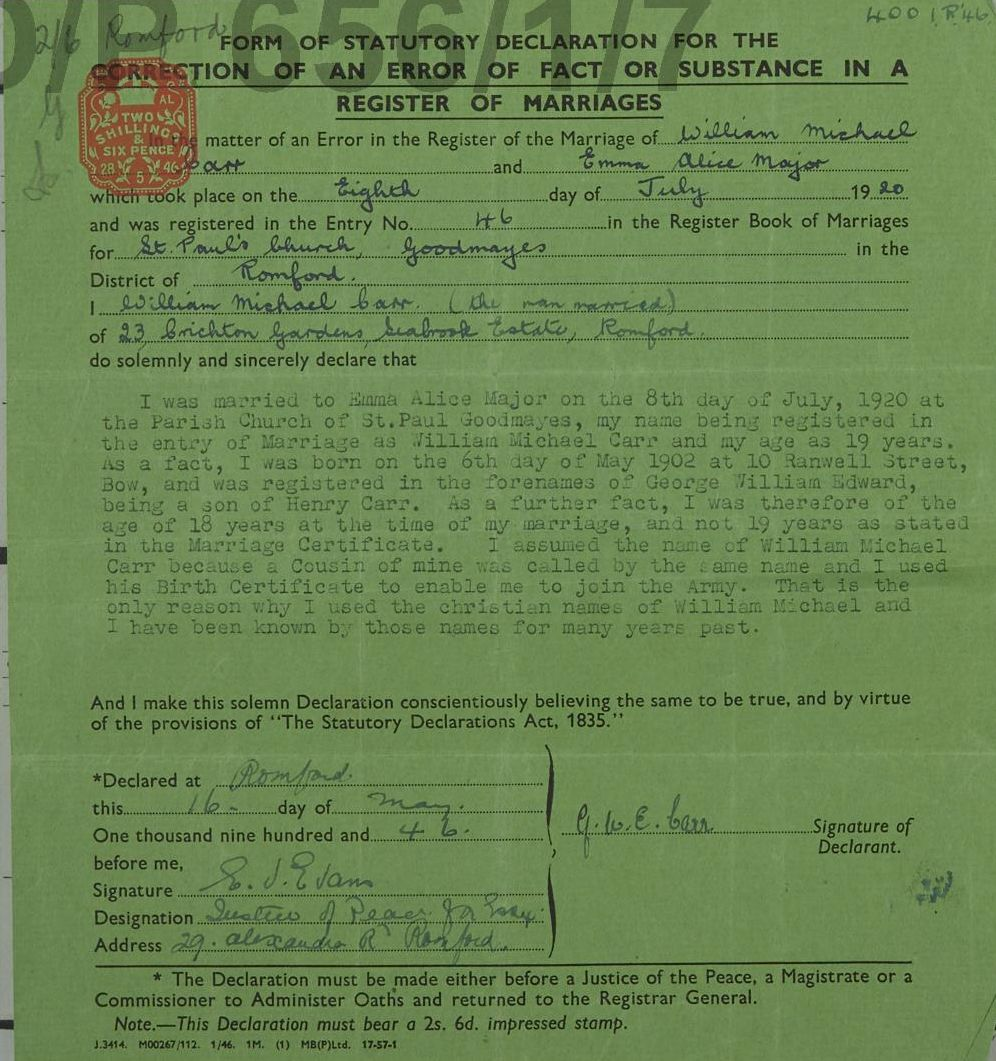 <![endif]> 
© Crown Copyright. Reproduced by courtesy of the Essex Record Office (ref D/P 656/1/7)
The first thing that stood out for me is that the groom is named as William Michael Carr in the preamble, but he has signed the Declaration as G W E (George William Edward) Carr. Is that what the GRO advised, I wonder?
But the real stunner is the reason George gives for using his cousin's ID – so that he could join the Army, and he states furthermore "That is the only reason why I used the Christian names of William Michael". However we know from his Navy record that he had gone AWOL – surely one of the reasons for adopting his cousin's identity was to escape the consequences?
All of the individuals in this case study are deceased, and they have left no documented descendants – otherwise I wouldn't have felt able to write about the case in such detail. And to think that this entire investigation began because I couldn't remember the name of my former next-door neighbour's wife! Perhaps disappearing down the metaphorical rabbit hole wasn't such a bad thing when you consider that I've been able to share with you GRO documents that you have almost certainly never seen before, and may never see again.
Lord Lucan found – in GRO index
Over the past half century there have been all sorts of rumours regarding Richard John Bingham, the 7th Earl of Lucan, who disappeared in 1974 after his children's nanny was murdered at the family home (though as he and his wife had separated he was no longer living there). I took a particular interest in the story because at the time I was working with a young lady who had previously been the children's nanny. There but for the grace of God….
It was not until 1999 that probate was granted in respect of Lord Lucan's estate, but even then his son George was unable to inherit the title because Lucan's death could not be registered – no body had been found. It was only after the Presumption of Death Act was passed in 2013 that George Bingham was eventually able to become the 8th Earl of Lucan in 2016.
Although Lord Lucan almost certainly died in 1974, his death does not appear in the GRO death indexes until 2016, and you can't order a copy of the supporting register entry online – you have to contact the General Register Office:
<![if !vml]>

<![endif]>
I hadn't realised until recently that entries from the Presumption of Death Register are included in the death indexes. Hopefully none of you are personally affected by such issues, but it is a reminder of how important it is to "read the manual". This is just one of many important facts found in the GRO's Customer Guide, which you can download in PDF format by following this link.
Note: you will find other useful information on the GRO site in the Frequently Asked Questions document
The popular press is always fascinated by marriages when there is a big age gap, and it's a predilection that has been around for at least 200 years, judging by this article from the Nottingham Review of 12th February 1819:
<![if !vml]>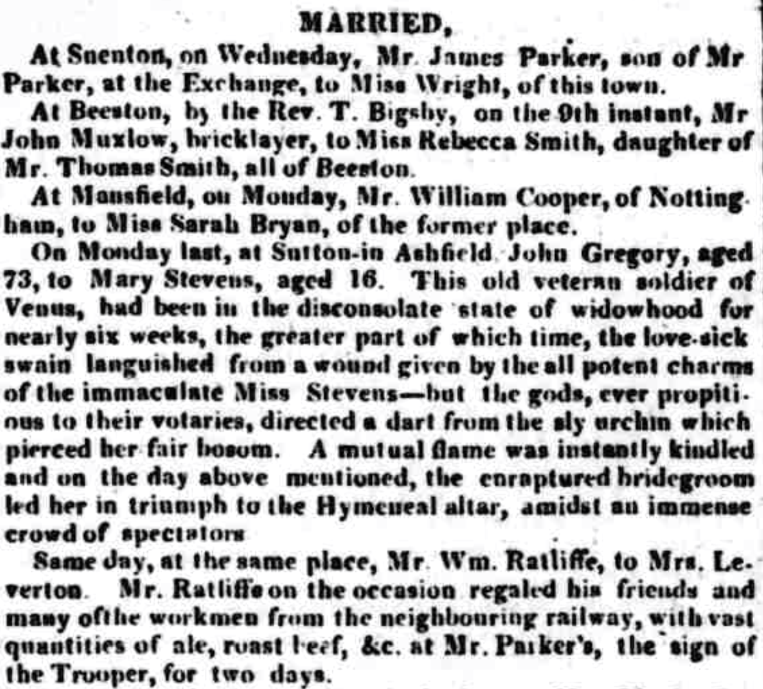 <![endif]>
Image © THE BRITISH LIBRARY BOARD. ALL RIGHTS RESERVED. Used by kind permission of Findmypast
It's hard to imagine a more sarcastic description of the relationship between the 73 year-old and his 16 year-old bride. Though looking at the entry in the marriage register, one has to wonder how accurate the reporting is since the bride signed her name as Mary Steedman. Interestingly the only baptism in Nottinghamshire that I can find for a Mary Steedman is in 1807, so she might have been even younger than 16.  
<![if !vml]>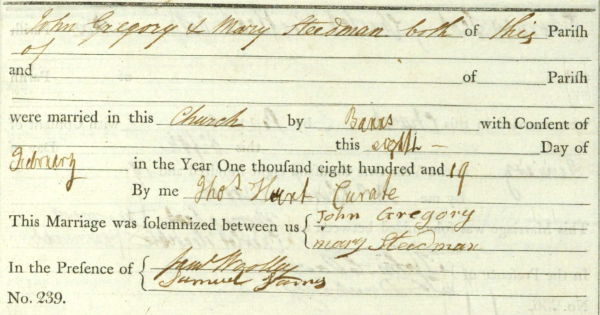 <![endif]>
© Nottinghamshire Archives. All Rights Reserved. Used by kind permission of Ancestry
It seems that despite the challenges of a much younger wife John Gregory lived for almost precisely 10 years after the marriage – he was buried at Sutton-in-Ashfield on 4th February 1829, his age given in the burial register as 84.
With winter approaching in the northern hemisphere it's time to return to family history. On Saturday 14th October I'll be speaking at the Suffolk Family History Society fair in Ipswich – you can find out more here. Perhaps I'll see you there? I have lots of ancestors from Suffolk, and I suspect there are dozens of my 'lost cousins' reading this right now.
Three weeks later, on 4th November, West Surrey Family History Society have their fair in Woking – I can't be there as I have a prior engagement, but I do have ancestors from West Surrey, so I'm happy to give them a mention. And I've just noticed Suffolk FHS are one of the societies attending, so that's another option for those of you with Suffolk ancestry. More details here.
This is where any major updates and corrections will be highlighted - if you think you've spotted an error first reload the newsletter (press Ctrl-F5) then check again before writing to me, in case someone else has beaten you to it......
<![if !vml]>

<![endif]>
Peter Calver
Founder, LostCousins
© Copyright 2023 Peter Calver
Please do NOT copy or republish any part of this newsletter without permission - which is only granted in the most exceptional circumstances. However, you MAY link to this newsletter or any article in it without asking for permission - though why not invite other family historians to join LostCousins instead, since standard membership (which includes the newsletter), is FREE?
Many of the links in this newsletter and elsewhere on the website are affiliate links – if you make a purchase after clicking a link you may be supporting LostCousins (though this depends on your choice of browser, the settings in your browser, and any browser extensions that are installed). Thanks for your support!