<![if !vml]>

<![endif]>
Newsletter – 6th May 2022
Happy birthday, Dad!<![if !supportNestedAnchors]><![endif]>
An opportunity to record your memories for posterity FREE
Nearly 2 million pages added to the British Newspaper Archive
Free access to Newspapers.com ENDS MONDAY
Ancestry making great progress on the 1950 Census FREE
More Roman Catholic records at Findmypast
Save on Ancestry DNA in Australia, NZ, and the US ENDS SUNDAY
The LostCousins newsletter is usually published 2 or 3 times a month. To access the previous issue (dated 30th April) click here; to find earlier articles use the customised Google search between this paragraph and the next (it searches ALL of the newsletters since February 2009, so you don't need to keep copies):
To go to the main LostCousins website click the logo at the top of this newsletter. If you're not already a member, do join - it's FREE, and you'll get an email to alert you whenever there's a new edition of this newsletter available!
Today would have been my father's 106th birthday had he not passed away in 2011. I'm very glad that I started researching my family tree while he was still around – there's so much that he told me which couldn't have been discovered from the papers he left behind (and certainly not from records in any public archive).
It was fortunate that I owned a camcorder, so that during his last years I was able to record him talking about his life, especially his experiences during WW2 – which he'd never spoken about when we were young. These days there are many other ways of recording memories, including one that you might not have considered before…..
An opportunity to record your memories for posterity FREE
During the pandemic most family historians have become familiar with a piece of software that we hadn't even heard of 3 years ago – Zoom has allowed family history societies and many other groups to keep going despite the restrictions. It has also been a lifeline for many elderly people who have been deprived of face to face contact with their families – it's not as good as being in the same room, but it's arguably the next best thing.
Best of all, most people have been able to use Zoom without paying a subscription, and without the need to buy any additional hardware – because it works with computers, smartphones, and tablets. It has also provided me with an opportunity to speak to family history societies around the world – previously I turned most of the invitations I was offered because the travelling time would have made it impractical. And between December and March hundreds of entrants in my competition were able to hear exclusive talks from experts in their field – thanks to Zoom.
However though we've found all sorts of uses for Zoom and similar technologies over the past couple of years, until recently I'd never thought of using Zoom to talk to myself. I know what you're thinking (and probably not for the first time) – Peter's losing his marbles – but read on and you might just change your mind.
In the days when I used my camcorder to record my relatives talking about their lives it was quite an occasion – I had to set up my tripod, make sure that the camcorder was fully charged and had sufficient hard drive space. And, of course, we all had to be in the same room at the same time – and that itself could be quite a challenge.
Of course, the whole point of Zoom is that you don't have to be in the same room – you can talk to someone on the other side of the world as if they were sitting in front if you. So to record the memories of your relatives all you need to do is choose the 'Record' option when you set up the Zoom meeting. Indeed, you could routinely record your family chats – provided your relatives agree.
But a Zoom meeting doesn't have to involve more than one person – even with a free account you can set up a meeting and talk to yourself for up to 40 minutes. What a great way to record your own memories for posterity!
Tip: if you want to share your recording with relatives, one option is to upload it to YouTube as a Private or Unlisted video – there are, of course, YouTube videos that will show you how to do this.
Once you've tried this out I'm sure you'll come up with additional ways to make use of this opportunity. But please don't write to me - instead post them on the LostCousins Forum so that others can benefit from your wisdom and initiative.
Tip: almost anyone can join the LostCousins Forum, but first you have to achieve a Match Potential of 1.00 or more. Your Match Potential is shown on your My Summary page – you can increase it most quickly by entering relatives from the 1881 censuses.
There's a very useful guide to WW2 records on the website of Who Do You Think You Are? magazine – you'll find it here.
You don't need to a subscriber to the magazine to read that article, but if you are tempted to take out a subscription you can still save between 49% and 68% by following this exclusive link.
Nearly 2 million pages added to the British Newspaper Archive
This week there were nearly 2 million pages added to the British Newspaper Archive, bringing the total up to an amazing 52,643,331 pages – not bad going considering that it took 10 years to reach the original 40 million target, a landmark that was reached little more than a year ago.
Despite this enormous growth the cost of subscriptions hasn't gone up – at least, not yet. If you do decide to subscribe please use the link in the previous paragraph so that you can support LostCousins.
Of course, you can also get access to the archive if you have a Pro subscription to Findmypast – though sadly these subscriptions have recently increased in price. It's also worth bearing in mind the dedicated British Newspaper Archive site has a significantly more powerful search.
Free access to Newspapers.com ENDS MONDAY
Until Monday you can access hundreds of millions of newspaper pages free at Newspapers.com – part of the Ancestry family.
Most of the newspapers are American, but there are 12 million pages from British newspapers – and I've also found relatives from the US branches of my tree, including a 1979 wedding photo of my 4th cousin Linda who I've never met, or even corresponded with. Though as it happens her daughter and I are DNA matches (at Ancestry), so the two of us have exchanged messages.
Who will you find, I wonder?
Ancestry making great progress on the 1950 Census FREE
On Wednesday Ancestry announced the preliminary release of their transcription of the entire 1950 US Census – you can search it here. It's completely free, as are the images, though you will need to sign in – but you can use an Ancestry log-in from one of their other sites, so you probably won't need to register).
The 1950 Census was released by the National Archives and Records Administration only on 1st April, but already by 9th April Ancestry had transcribed the entire census using their proprietary handwriting-recognition software. At this point they handed the data over to FamilySearch whose volunteers have been checking and updating it – but the quality of the transcripts checked so far has been so good that Ancestry took the decision to make all of them available to researchers without further delay.
I wasn't going to find my cousin Linda in the census, because her parents-to-be didn't marry until later. I did, however, easily find her father, uncle, and paternal grandparents, whose names and ages had all been correctly transcribed – which was pretty impressive considering that Linda's grandmother had a very unusual forename.
Linda's grandfather – my 2nd cousin twice removed – was entered on a sample line, which meant that extra information is provided for him. It shows that his parents were both born in England, that he left school at the age of 13 or thereabouts, and also how much he earned in 1949. Roughly 1 in 5 of the population were included in the sample.
Thanks to everyone who wrote in to congratulate LostCousins on our 'coming of age'.
18 years might not sound like a long time to those of you have been researching your trees for over 40 years (and over 70 years in at least one case), but we were only a year behind Findmypast (known at the time as 1837online), and several months ahead of Who Do You Think You Are?, which aired for the first time in the autumn of 2004. Ancestry, of course, has been around a lot longer – as this New Yorker article reminds us.
More Roman Catholic records at Findmypast
Towards the end of last month Findmypast added nearly half a million Roman Catholic records for the diocese of Salford – supplementing their already massive collection drawn from England, Scotland, Ireland, and the USA.
You can see what records are held if you follow this link.
Save on Ancestry DNA in Australia, NZ, and the US ENDS SUNDAY
Until midnight on Sunday you can save on Ancestry DNA tests, the only tests I can wholeheartedly recommend (and I've tried them all). Of course, there's nothing special about the tests themselves – what matters is that they're the only way to get access to Ancestry's database of 21 million users, far more than any other site.
And it's not just about the size of the database – the way that Ancestry integrate DNA with their massive collection of family trees is superb.
Ancestry.com (US only) – reduced from $99 to $59 until 11.59pm EST on 8th May  
Ancestry.com.au (Australia & NZ) – reduced from $129 to $99 until 11.59pm AEST on 8th May
The article in the last issue about the plans to update the survey of regional dialects inspired Roy to write in with a story about the time he spoke to Prince Philip at a Buckingham Palace garden party. When Roy mentioned that he lived in Somerset, the Duke of Edinburgh commented "Good God! Can you understand a word they say down there?"
Sadly Prince Philip passed away last year, so he won't be at this year's garden parties, which are resuming for the first time in 3 years – nor will the Queen be able to attend, as she finds it difficult to stand for long periods.
As a young man I always imagined that one day I would meet the Queen; sadly it looks as if it will never happen, but Your Majesty, if you're reading this, I'd gladly settle for a Zoom call.
Last month I mentioned Frederick George Emmison, 1907-1995 the renowned archivist, author and historian who was County Archivist for Bedfordshire from 1925-1938, and for Essex from 1938-1969. In the article I commented that I wasn't sure why he was known by close friends and family as Derick.
I soon found out the answer – from two LostCousins members who remembered him well. Indeed Mary-Ann had known him all her life, as he was a friend of her family:
"For me as a 'history buff' child, he was vastly entertaining, pointing out unknown places of interest on car journeys and quizzing my history knowledge at the dinner table. He certainly stimulated my love of the subject."
Sue's connection was through her job:
"I used to work at the Essex Record Office in the 1970s and remember Derick Emmison coming into the Search Room on many occasions as he was still researching and writing in his retirement – 'Derick' is the latter part of Frederick which he used as an abbreviation, as opposed to the usual 'Fred'. I was very young at that time and rather over-awed by the great man, so I'm not even sure that I ever spoke to him, but I remember him as a dapper little man with a great deal of energy, bustling about like a whirlwind."
How wonderful that the memory of this great man lives on!
From Emmison to Mollison: I spotted an article in the latest Devon Family Historian which I knew that readers of this newsletter would enjoy, so I was delighted that the name of the author was someone I recognised as a LostCousins member.
(I can't claim to remember the names of all 70,000 people who receive this newsletter, but I seem to have a Sixth Sense that helps me spot them!)
Two consecutive birth register entries reveal some unusually-named twins:
<![if !vml]>

<![endif]>
<![if !vml]>

<![endif]>
Many thanks to Bob for allowing me to recycle this tail, which could so easily have been created by Beatrix Potter!
<![if !vml]>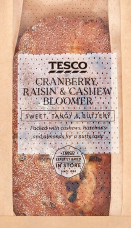 <![endif]>I've certainly mentioned in the past that I make porridge from jumbo oats (regular porridge oats remind me of Farex, not a good association); I've probably also mentioned that I make it with water, but eat it with  dark brown sugar (ideally Muscovado) and double cream. But what I haven't told you about is my latest recipe, which includes sultanas and dried cranberries – indulgent, decadent, and delicious!
Talking of cranberries, one of my favourite breads is Tesco's Cranberry, Raisin & Cashew Bloomer. It's very often out of stock, but even when it is in stock it can be difficult to find if – like me – you order online.
If you search for 'cranberry' it doesn't show up at all, and if you search for 'cranberry bread' you're told that no products matching your search have been found, though in fact it is there, hiding among the search results. Searches that do work well are 'cranberry cashew' and 'cranberry bloomer'.
Once a week or once a fortnight my wife and I have bread and cheese for dinner, and for us it's a treat – for me especially, because it means I don't have to cook, though I do have to remember to take the cheese out of the fridge a couple of hours in advance. I grew up eating apples with cheese, but then I discovered how well pears go with soft cheeses – so now we have apples, pears, and grapes too (if there are some in fridge).
These days almost all of the grapes sold in the UK are seedless, but that certainly wasn't the case when I was growing up – as a young boy in the 1950s I would carefully skin grapes and remove the pips before eating them. I suppose that because they were a rare treat I wanted them to be as special as possible.
In the late 1960s and early 1970s I used to buy coffee from a shop in Ilford called Planters – they used to roast the coffee on the premises, and there was a restaurant at the back where I would occasionally have a cup of coffee. However mostly I would buy Kenya Peaberry beans, and hand-grind them at home before brewing them in my Cona coffee maker, a device that looked rather Heath Robinson, but actually worked very well.
Nearly half a century later I've discovered some sources of Kenya Peaberry – and it tastes just as good as I remember. Bliss!
Just after this issue went to press I heard from Nathan Dylan Goodwin that the Kindle edition of The Lost Ancestor (the second book in the Morton Farrier series) will be on sale at just £1.99 in the UK and $1.99 in the US until Saturday 14th May. Please use these links: Ancestry.co.uk Ancestry.com
<![if !vml]>

<![endif]>
Peter Calver
Founder, LostCousins
© Copyright 2022 Peter Calver
Please do NOT copy or republish any part of this newsletter without permission - which is only granted in the most exceptional circumstances. However, you MAY link to this newsletter or any article in it without asking for permission - though why not invite other family historians to join LostCousins instead, since standard membership (which includes the newsletter), is FREE?
Many of the links in this newsletter and elsewhere on the website are affiliate links – if you make a purchase after clicking a link you may be supporting LostCousins (though this depends on your choice of browser, the settings in your browser, and any browser extensions that are installed). Thanks for your support!